One of the most common questions we get asked is, how do we get money onto Polygon, especially when people are using US exchanges. The prerequisites for getting onto Polygon will be to have an exchange that has a Fiat on Ramp (able to deposit cash to buy crypto) and a Ethereum based wallet (MetaMask, Trust Wallet, Frame, etc).
Onboard Fiat Onto an Exchange
For this guide we will be using Coinbase as our exchange, but you can use any exchange that you have. First we deposit our USD into Coinbase. After you have your USD you can log into Coinbase Pro and transfer your USD to Coinbase Pro from regular Coinbase without a fee. We do this because Coinbase Pro has a better fee when buying other coins than regular Coinbase, and depending on how long you have had your account and how much money you have in it, you may be able to instantly withdraw the new money. If you cant withdraw immediately Coinbase should tell you how much time you have to wait before a withdraw.
Purchase the Token you Will Withdraw
At the moment one of the cheapest ways to get to Polygon is from the Avalanche Chain. So, we will be buying AVAX. Switch to the AVAX-USD trading pair and buy your AVAX. Once you have your AVAX in your portfolio you can click the Withdraw button and enter in your Wallet Address that you will be using. Confirm the amount you are withdrawing and within a few minutes your AVAX should be in your wallet on the Avalanche C-Chain.
Convert to Stable Coin on Avalanche
Once your AVAX arrives in your wallet you will be able to go to your favorite swap on AVAX (I generally use Trader Joe). Be sure not to swap 100% of your AVAX because you will need a little bit left over for gas, I normally keep around $5 left in my AVAX wallet at all times. Swap your AVAX to USDC.e.
Bridging to get Money Onto Polygon
Once the transaction confirms head over to Connext. Connect is a multichain bridge that allows you to move various stablecoins to other chains that used to be called xPollinate. We will be selecting From: Avalanche and To: Polygon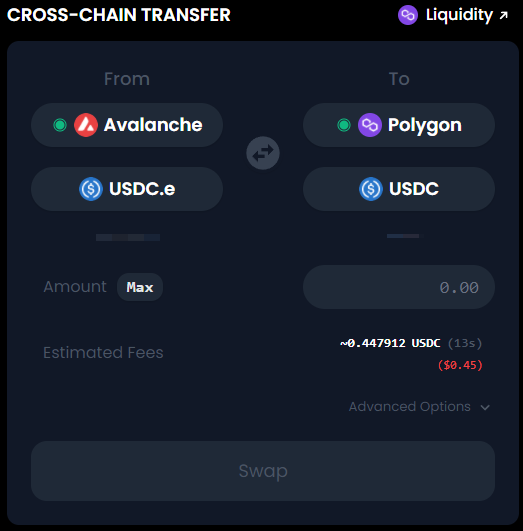 Once you complete the Swap within a few minutes you should see a notification to sign on Polygon to receive your USDC on Polygon.
Swap for MATIC
If you have never been on Polygon before and you don't have any Matic to use as gas, the team at Polygon has made a solution for you. This is the main site for bridging from Ethereum to Polygon, but it also has a gasless swap feature that allows you to obtain MATIC when you don't have any.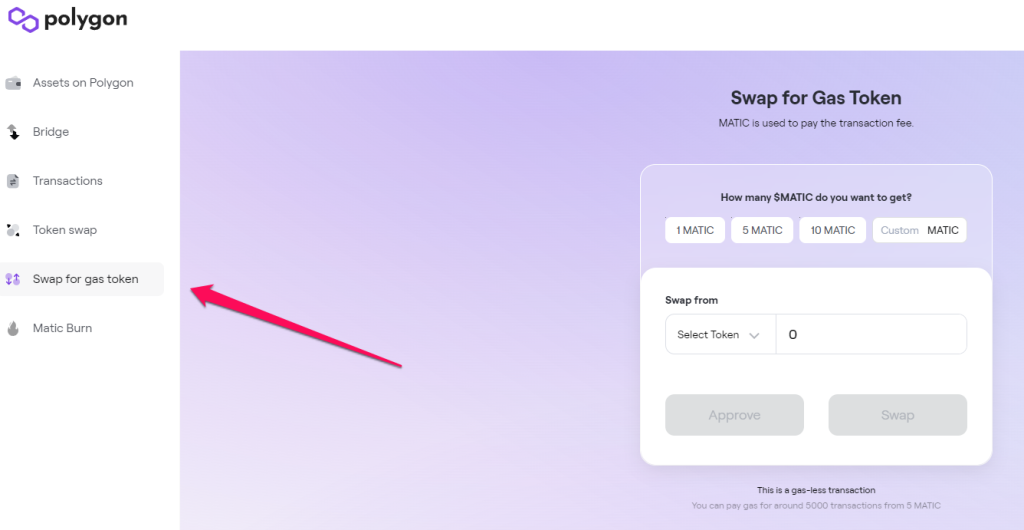 Need Help With Getting Money Onto Polygon?
If you're new to the crypto space and haven't bounced around blockchains, things like this can be intimidating. If you want someone to walk you through this or just to have someone verify what you're doing is correct, there is tons of people in the Palisade Crypto Discord that are able and willing to help guide you this and many other issues. Jump on in and introduce yourself, we would love to help you.
Once you have your coins over on Polygon, be sure to check out Episode 1 of our Podcast in which we go over some of our favorite platforms and benefits of using the Polygon Blockchain.